La Confederación Galáctica através del Caminante de los Cielos
Saludos de la Federación:


Hemos estado en consejo de las últimas discusiones de su condición humana. Ustedes saben que no somos perfectos, como tampoco ustedes. No somos dioses. Tenemos problemas de vez en cuando con la comprensión de sus pensamientos y emociones humanas. Las sentimos, no obstante. Sabemos de sus frustraciones porque también son nuestras. Hemos hablado de la mejor manera de acercarnos a su alejamiento y la ira y la frustración que les ha llevado a este precipicio. Hemos llegado a soluciones que no son fáciles. Por lo tanto, hemos acordado que la mejor estrategia es permitir que simplemente trabajen por ustedes mismos en lo que desea ser ahora y en el futuro. Su mentalidad es suya y no hay nada que pueda o quiera hacer que esto cambie. Sus decisiones deben ser personales.

Vendremos independientemente de sus pensamientos, sus emociones o sus sentimientos hacia nosotros. Eso es parte de nuestro contrato, no con ustedes, sino con lo divino. Tenemos un acuerdo el cual no podemos abandonar. A diferencia de ustedes, no podemos ejercer el libre albedrío en nuestro llamado. Es lo que hemos dado a cambio de una conexión a la fuente divina. Es parte de un orden superior de ser. Vamos a venir, independientemente. Todo eso es así.

Hay muchos entre ustedes que han decidido burlarse y alejarse de todo lo que hemos estado discutiendo durante mucho tiempo. Algunos de ustedes hacen esto para "cubrir una apuesta" en contra de lo que ustedes consideran una "vergüenza" más de lo que han elegido creer en comparación con los que existen en el "mundo real" de la vida cotidiana - el pago de facturas, ganarse la vida, comer, beber y socializar. En contraste con esto, estamos "fuera de las extremidades" y todo lo que defendemos los coloca en una categoría de estar locos. Reconocemos el estigma y los hemos admirado por mucho tiempo en su voluntad de realizar esta carga por lo que para ustedes es sólo creencia. La gran mayoría de ustedes no ha tenido contacto con nosotros, no han visto nuestras naves, no tienen manera de saber si esto es cierto, excepto su creencia. Ustedes recientemente han ido despertando a su capacidad de discernir con el corazón en lugar de su cabeza.

Ahora hemos llegado a nuestra propia encrucijada también. Nuestra misión divina está en el precipicio de la realidad. Y aunque no somos de su tiempo, sabemos de su tiempo. Entendemos los términos que se han sentido frustrados con lo que hemos utilizado durante tanto tiempo. Les decimos que se han utilizado para aumentar sus frecuencias vibratorias, ya que es mucho más fácil para que nos comuniquemos con ustedes personalmente en este modo. La densidad de lo contrario es muy difícil de aceptar para nosotros. No es tanto que no podemos "pasar" por ustedes, ya que es doloroso para nosotros estar en la presencia de este nivel de pensamiento fuera de foco y la negatividad, incluso a pequeña escala. Así son los gustos de la existencia dimensional superior. Hemos tratado de explicarles esto , pero ustedes han elegido interpretarlo en términos de tercera dimensión y esto no le puede dar una imagen real del nivel de esta dificultad.

El problema existe para ustedes al esperar cambios masivos en la conciencia, en la forma en que su realidad es, y los en todos los aspectos de su vida, como si fuéramos a "precipitarnos" y agitáramos una varita mágica. Los cambios son graduales, y a veces difícil de ver, pero van a su alrededor todo el tiempo, incluso mientras leen estas palabras. Lo que proponemos son los cambios de los que hemos estado hablando con ustedes. Búsquenlos en dosis más pequeñas y que no no se sentirán tan decepcionados.

Nuestro tiempo juntos está en camino, se los aseguramos. Estén firmes en sus principios y sus convicciones. Y sepan que estamos con ustedes en el amor y la gratitud por nuestra alianza mutua.

Estén en paz.
Channel: Caminante de los Cielos
Traductora: Ale Manjarrez
http://wandereroftheskiesrussian.blogspot.com/ -

RUSSIAN
We are looking for new translators English-Romanian, English-Indonesian and English-Hebrew for Wanderer's messages.
We are a team of translators from all over the world (more than 100 people for 24 languages) that wants to spread messages of Unconditional Love and Spirit Light as far and wide as possible.
Would you like to join us? Please send an email to
a
and we'll get back to you. Please understand that we are looking for native speakers (target language) to keep quality standards as high as possible.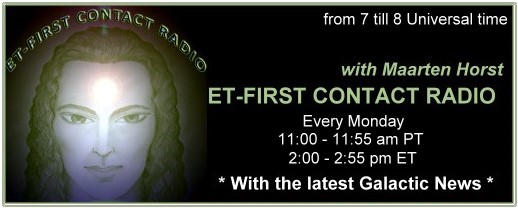 Every Monday night from 8 to 8:55 pm
channelings and related matters are being discussed on First Contact Radio.
The show is hosted by Dutch Lightworker Maarten Horst and is presented in English.