La Confederación Galáctica através del Caminante de los Cielos
Saludos de la Federación:


Hay mucho "en marcha", como dice el dicho, en su mundo actual. Mantengan sus ojos en la bola, porque los que parecen de la luz pueden no serlo y los que parecen estar al servicio de los Illuminati pueden, de hecho, sorprenderlos. Hemos ampliado nuestra protección a aquellos que tienen más necesidad de ella en este momento y han detenido enormes esfuerzos de los Illuminati de iniciar un conflicto importante en la cuna de su civilización. No podemos permitir que esto suceda ya que los planes deben avanzar hacia lo inevitable.

En nuestras reuniones, hemos traído a esos humanos con los que hemos estado en contacto a través de las diversas facciones de la Federación para discutir sus puntos de vista sobre la mejor manera de abordar las diversas cuestiones en las que actualmente están participando sus trabajadores de la Luz. Nos han dado sus conocimientos y pensamientos y nosotros los hemos asimilado en nuestro plan general.

Muchos de sus líderes en la política han sido mal llevados a la idea equivocada de que todavía tienen un "boleto en el barco" cuando para los "últimos tiempos", como han sido llevados a creer, va a ocurrir. Nadie les ha informado de que sus santuarios han sido destruidos por lo que continúan aprobando la legislación destructiva para sus familias muy felizmente inconscientes de que las consecuencias de sus acciones serán personales. Ellos erróneamente creen que tendrán un lugar a donde ir. Cuando se hagan conscientes del hecho de que van a sufrir junto con las masas, su asombro por el engaño perpetrado sobre ellos se recuperará a los que la crearon y verán la ruina de muchos de los males iniciados por esta misma clase de personas.

La intensidad del drama que se desarrolla en su mundo aumentará de forma exponencial en los próximos meses. Lo que ustedes pensaban que era una increíble revelación hoy serán "cacahuates" en comparación con lo que ocurra mañana, tanto en magnitud del evento y la intensidad de las consecuencias. Las cosas se están desmoronando a un ritmo sin precedentes y todo ello de acuerdo con el plan.

Todavía discutimos entre nosotros las diversas tecnologías que se darán a conocer una vez que se dé la Divulgación y en qué orden deben ser reveladas. Aunque esto parece un asunto sin importancia para algunos de ustedes, es realmente importante para entender la interconexión de las tecnologías que poseen y la forma en que en última instancia, les afectará. Ya sea para mostrar las tecnologías que acceden a lo que llaman "registros akáshicos" antes de revelar los dispositivos de teletransportación o en concierto con las máquinas de replicación no es poca cosa para nosotros. Como hemos dicho muchas veces antes, lo que está planeado para ustedes se hace así hasta el más mínimo detalle y por razones que, en su mayor parte, sólo se harán evidentes después de la Divulgación.

Nosotros les decimos a ustedes, levanten el espíritu, sean de luz y alegría, que todos ustedes son merecedores de estos sentimientos. Estamos siempre en el temor de su capacidad para recuperarse de los lugares más oscuros de su realidad dimensional los lleva. Es una hazaña digna de su estado entre nosotros. Ustedes son, para nosotros, la realeza. Estamos encariñados con ustedes debido a su humildad en este respecto. Les deseamos sólo amor y la alegría mientras esperan estos últimos momentos antes de lo inevitable.


Estén en paz.
Channel: Caminante de los Cielos
Traductora: Ale Manjarrez
http://wandereroftheskiesrussian.blogspot.com/
-

RUSSIAN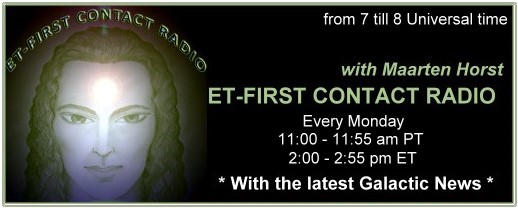 Every Monday night from 8 to 8:55 pm
channelings and related matters are being discussed on First Contact Radio.
The show is hosted by Dutch lightworker Maarten Horst and is presented in English.