La Confederación Galáctica através del Caminante de los Cielos
Saludos de la Federación:

Estamos de regreso para discutir otro aspecto del emergente proceso de Divulgación con ustedes. Ustedes están inmersos en los cambios que ahora están sucediendo alrededor de vuestro planeta. En el campo económico y de negocios hay un gran giro en marcha que ha creado cambios imparables que nos acercan más a la Divulgación y a nuestra habilidad de enseñarles lo que sabemos sobre su proceso de Ascensión en el poco tiempo restante antes de que llegue.

Vuestro mundo cambiará drásticamente después de la Divulgación. En gran medida, cambiará porque hasta el último de ustedes tendrá acceso a la energía libre y otras maravillas tecnológicas de las que sólo podrían soñar por ahora, pero que ahora existen en su mundo. Esto incluye dispositivos de tele transportación, máquinas que les permitirán ver eventos pasados en formato holográfico, dispositivos de comunicación que les permitirán contactar a cualquiera en cualquier lugar y en cualquier momento. Los países del tercer mundo, mayormente golpeados por la avaricia de poder de los Illuminati, se volverán iguales con todas las otras naciones. Imaginen la riqueza sin explotar del conocimiento, innovación, y talento que se abrirá a toda la humanidad cuando estos países estén a la par con los demás y su gente pueda ser escuchada. La educación será interactiva y para todo el mundo, no sólo un lujo local. Con la tele transportación, todos los salones de clase pueden ir a sitios históricos para ver y experimentar por ellos mismos, añadiendo el uso de técnicas holográficas para ver la historia tal como sucedió. Vuestra verdadera historia será abierta para ustedes, con el reconocido propósito de que cualquier descubrimiento es para el bienestar de la humanidad, no para sólo unos cuantos.

Muchos de estos escenarios parecen "castillos en el aire" para ustedes y un bonito sueño, pero nada más. Nada más alejado de la realidad. Imaginen la libertad absoluta del espíritu humano con esos dispositivos. Ahora comprenden por qué esta tecnología, este conocimiento, esta historia, fue alejada de ustedes por tanto tiempo. Nadie puede estar por encima de otro cuando se dan cuenta de que todos son uno.

Estas cosas, y muchas más, están viniendo a ustedes. Ya está en marcha un gran movimiento que dará lugar a la redistribución de sus riquezas, sistemas legales, y la forma de hacer negocios. Los protocolos necesarios para el evento de la Divulgación están siendo preparados. Cada vez más nos acercamos a lo inevitable y estamos más entusiasmados que nunca de que finalmente podremos estar juntos en un contacto abierto y amoroso.

Mientras los asuntos progresan de forma exponencial, serán sobrecogidos por la velocidad a la cual estos procesos se revelan. Estamos ahí, en cada esquina, para asegurar que todo salga acorde a lo planeado. Sean la Luz del corazón en estos días venideros y estaremos felices juntos en nuestra reunión.

Estén en paz.
Channel: Caminante de los Cielos
Traductor: Teddy Gonzalez
http://wandererindonesian.blogspot.com/
-

INDONESIAN
http://wandereroftheskiesrussian.blogspot.com/ -

RUSSIAN
Visualización de todo el mundo para un avance SIGNIFICATIVO - Únete ahora!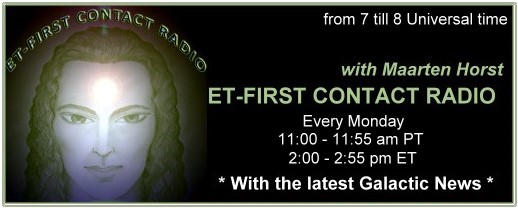 Every Monday night from 8 to 8:55 pm
channelings and related matters are being discussed on First Contact Radio.
The show is hosted by Dutch lightworker Maarten Horst and is presented in English.