La Confederación Galáctica através del Caminante de los Cielos
Saludos de la Federación:

Nos hemos tomado un tiempo desde la última comunicación ya que últimamente estamos muy ocupados. Hay una tremenda cantidad de actividad de nuestro lado pues todos nos alistamos para un inusual gran evento.

Los eventos recientes en el continente americano sin duda tienen a muchos de ustedes preguntándose qué es lo que ocurre. Detectamos el uso de chemtrails y otros dispositivos para hacer lo que inicialmente era un evento natural, un huracán, y expandirlo y desviarlo de su camino. Hemos tomado nuestras acciones para aminorar la ferocidad de este evento pero reconocemos bien sus esfuerzos, los que han sido bastante efectivos en disminuir el impacto a través del poder de sus pensamientos. Aunque hubo gran destrucción, la gran mayoría fue parte del mundo natural y era necesario para la transformación de Gaia.

Hemos tenido grandes "debates" sobre qué exactamente debemos y no debemos divulgar a ustedes. Reconocemos sus deseos de que no les digamos ciertas fechas referentes a la Divulgación ya que esto tiende a debilitar en lugar de fortalecer el espíritu humano, especialmente porque no podemos estar plenamente seguros de cuál será el resultado de estos eventos. Nuestras discusiones también tocaron si deberíamos predecir los eventos hechos por el hombre y los naturales que ocurren en su mundo. Por el momento hemos decidido no divulgarlos antes de que ocurran al menos de que de alguna forma ustedes requieran una explicación.

Sin duda habrán notado un significativo incremento en las apariciones de nuestras naves en sus cielos en todos los rincones del planeta, algunas veces en gran número. Esto continuará y crecerá en magnitud y frecuencia. Estamos acostumbrando a tanta gente como sea posible a nuestra existencia para prepararlos para lo inevitable. Una facción clave de los bribones Illuminati recientemente han "visto la Luz" e hicieron un acuerdo secreto con aquellos que ya negocian un cambio de poder que está en camino en muchas de sus funciones elementales. Esto debe ayudar a suavizar el camino hacia la Divulgación.

Estén listos para lo inevitable. Enfóquense en la tarea que tienen mientras las cosas se develan por sí mismas ante ustedes. La Divulgación sutil previamente discutida abrirá camino a una forma de Divulgación mucho más obvia y poderosa que todavía está por venir. Sean amables entre ustedes en estos tiempos difíciles.

Estén en paz.
Channel: Caminante de los Cielos
Traductor: Teddy Gonzalez
http://wandererindonesian.blogspot.com/
-

INDONESIAN
http://wandereroftheskiesrussian.blogspot.com/ -

RUSSIAN
Visualización de todo el mundo para un avance SIGNIFICATIVO - Únete ahora!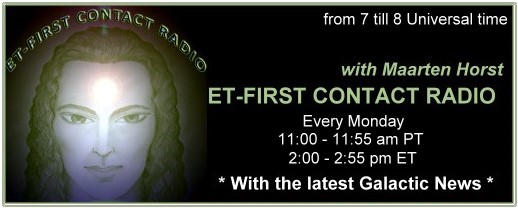 Every Monday night from 8 to 8:55 pm
channelings and related matters are being discussed on First Contact Radio.
The show is hosted by Dutch lightworker Maarten Horst and is presented in English.