La Confederación Galáctica através del Caminante de los Cielos
Saludos de la Federación:


A medida que los asuntos están avanzando más rápidamente de lo que nos esperábamos, sentimos que es necesario para ustedes tener esta actualización siguiente ahora. Dos asuntos importantes han llegado a un punto en sus sociedades. La primera es que los problemas bancarios han hecho los intercambios necesarios para cambiar el sistema monetario en el nuevo orden. Un grupo de países han tomado a los Illuminati en este sentido y obligado a una concesión antes de lo que habíamos anticipado. En segundo lugar, las facciones militares rebeldes de varios de sus países parecen estar en conformidad con los acuerdos más recientes, allanando así el camino para un intento más seguro en la Divulgación de lo que hemos visto en el pasado reciente.

Deseamos hacer hincapié en que han habido muchas veces en que las circunstancias han cambiado en el pasado, justo cuando pensábamos que todo estaba en orden para seguir adelante y retrasando así aún más lo inevitable. No podemos decir con certeza si estos nuevos desarrollos van a garantizar la Divulgación que hemos estado anticipando. Sólo podemos decir que otra ventana de oportunidad se presenta para sus líderes para aprovechar y avanzar en este proceso.

Mientras que habrá muchos todavía muy mal preparados para lo que viene, creemos que ustedes tienen bastante conocimiento y determinación para ver a estos individuos a través de lo peor de estos trastornos. Por esto, nos referimos a trastornos en el pensamiento, la psique, y la salud mental / emocional, mientras que ustedes se adaptan al "nuevo" conocimiento de su Familia galáctica.

Confíen en que como los asuntos se van desarrollando todo ha sido planeado por nuestra parte con la ayuda de grandes seres espirituales que tienen su bienestar como su mayor preocupación. No participen en el temor de aquellos que de otra manera lo distraigan de sus objetivos. Cada uno de ustedes tiene un papel específico que desempeñar, y aunque puede que no sepan lo que es con ningún detalle, o tal vez no del todo, no permitan que esto los desanime. Los sentimientos que siempre han tenido, de saber que algo "grande" iba a ocurrir en su vida y que iban a ser parte de ella, son sentimientos genuinos que no pueden descartarse. Ni siquiera acepten lo que decimos acerca de esto. Simplemente busquen en el interior y sepan discernir esta verdad por ustedes mismos. Dejen que eso sea su guía, aunque no puedan "poner el dedo en" el plan exacto de lo que van a ser parte.

Sus esfuerzos hasta la fecha han ayudado tremendamente a que todo este proceso vaya hacia adelante más de lo que pueden saber. Su dedicación a la Verdad y la Luz son inspiraciones maravillosas para nosotros, aquí, a medida que trabajamos para acercarnos a nuestra unión inevitable. El amor es la clave. Es el momento de abrir la puerta.



Estén en paz.
Channel: Caminante de los Cielos
http://wandererindonesian.blogspot.com/
-

INDONESIAN
http://wandereroftheskiesrussian.blogspot.com/ -

RUSSIAN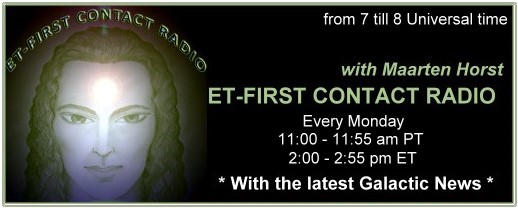 Every Monday night from 8 to 8:55 pm
channelings and related matters are being discussed on First Contact Radio.
The show is hosted by Dutch lightworker Maarten Horst and is presented in English.